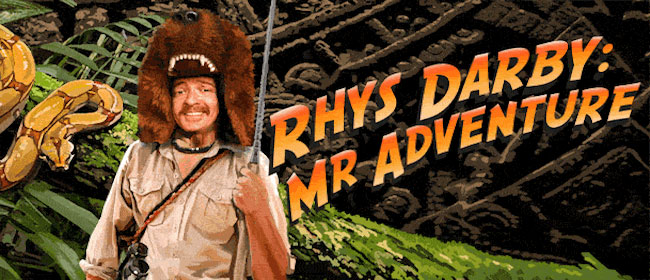 Rhys Darby, New Zealand's very own comedy superstar returns with a brand new show for 2014, and this time he's taking in the length and breadth of New Zealand in his biggest tour yet!
From the misty mountains of Rwanda to the eerie shores of Loch Ness, Rhys has attempted to see it all… Now he's home to tell you the stories.
Expect tales of awe from the summit of Mt Kilimanjaro, wild wonderment as he describes the gorillas in Rwanda and hilarious live reenactments of his cryptid discoveries in gun-toting Texas!
In 2012 Darby bought us the fantastical tale of what he thought would happen when the Mayan calendar runs out. Clearly the world did not end, so Rhys traverses mountains and explores the earth in an effort to show that life can still be a massive adventure bordering on the unbelievable.
No one brings a yarn to life better than Darby with his classic onstage physicality. Pack your girdle, you're likely to lose your insides laughing! Join him as he regales you with tales so thrilling you'd swear he was making them up.
In between his huge adventures Darby is based in Los Angeles with his family where they like to hike and eat tacos and he appears regularly on US TV in shows like How I met your Mother and The Late Show with David Letterman.
Winner: Best NZ Comedy (The Fred) 2012
Climbed Mt Kilimanjaro  (5,895 m) 2013
"Godspeed time-travelling disco soldier." **** – Chortle
"He has that Peter Sellers madness inside him." – Jim Carrey
Images